Top tips from both ends of the tongue!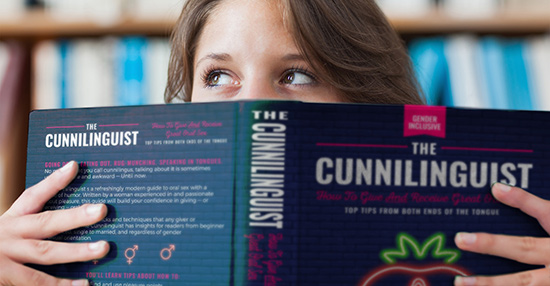 Want to read something first? Here's a post on how to give oral sex.
Lesbian Audio / Book Series: BRANDING HER
Branding Her is a steamy lesbian romance series of 13 episodes spread over 6 books. They follow Kaylee, a single mom who moves to Boston for a new job and meets Alexis. They soon start dating and embark on a sexual relationship that gets steamier as the series progresses; erotic romance. Lesbian stories: Each episode is an easy reading short story and most end in a "happy ever after" style. All books are available on Amazon Kindle, paperback and as a series of audiobooks on Audible.
CLICK HERE TO VIEW BRANDING HER SERIES ON AMAZON
Lesbian Romance Series
Steamy contemporary romance series of books and audiobooks for lesbian, bisexual and curious women.
Each book contains two short novella episodes alongside a 'bonus' erotic story and is available on Amazon Kindle, paperback and audiobook (Audible).
Lesbian Romance Stories
I've always enjoyed reading lesbian fiction short stories, especially in the erotic romance genre, however I found there was a very limited selection. Books seemed to be either 'romance' or 'erotica' (and often aimed at xnx men). I wanted something like Netflix – short bite-size episodes I could dip into…but also feel some sort of connection to the character(s). Branding Her is my first attempt, I hope you enjoy!
About Alex B Porter
Alex B. Porter is a fiction author of steamy lesbian romance. Hailing from Belfast, Alex bounces between Shoreditch, London and her home country but has spent significant time in the United States. She lives with her lifetime partner, a talented artist, and Neko the cat.
When she isn't spinning sexy stories to the beat of a large Merlot, Alex enjoys travel, music, the arts, and reading. You can now find Alex's work for purchase and download on Amazon Kindle or paperback or audiobook.
Equality and Gay Marriage Northern Ireland
Equality is something I care very much about across the board. Northern Ireland is one of the few places in western society where the gay and lesbian community cannot be legally married. Northern Ireland is part of the United Kingdom (alongside England, Scotland and Wales). Northern Ireland sits on the island of Ireland.
Gay marriage is legal in the (rest of the) UK and in Ireland… but not in Northern Ireland.
Sounds crazy…but it's true!
If you'd like to vote for change you can do so here: http://bit.ly/gayNI