How To Give And Receive Great Oral Sex
#TheCunnilinguist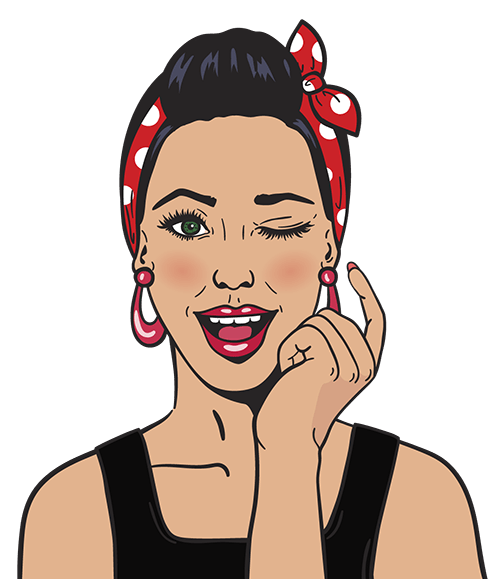 Did you know that receiving oral sex can double a woman's chance of orgasm and that lesbians report better sex lives than their straight counterparts?
Researchers from Chapman University, Indiana University and the Kinsey Institute studied 52,000 Americans and found that 95 percent of straight men usually or always orgasm when sexually intimate with a partner whilst the same is true for only 65 percent of straight women – this is widely known as the orgasm gap.
.
The study also found that 86 percent of lesbians usually or always orgasm. So, yes, those of us with a clit can orgasm. And we can orgasm a lot…
Enter The Cunnilinguist…
Regardless of gender, sexuality or relationship status, if you're someone who would like to improve your experience of giving or (and?!) receiving cunnilingus, then this "refreshingly modern guide" might just be the pleasure-inducing gift you're looking for.

Released just in time for Valentine's 2019, The Cunnilinguist is available in eBook and paperback (Amazon link) format (audiobook coming in March). The Kindle version is FREE in the run up to Valentine's and went straight to #1 "Best Seller" in Amazon's "Sexuality" category. On Valentine's day the price will change to $0.99 for an additional promotional period and then return to full price of $6.99.

Going down. Eating out. Rug-munching. Speaking in tongues. No matter what you call cunnilingus, talking about it is sometimes uncomfortable and awkward—Until now.

The Cunnilinguist is a refreshingly modern guide to oral sex with a sense of humor. Written by a woman experienced in and passionate about pleasure, this guide will build your confidence in giving—or receiving—oral sex.

You'll learn tested tips, tricks and techniques that any giver or receiver can try. The Cunnilinguist has insights for readers from beginner to advanced, single to married, and regardless of gender or sexual orientation.
Written by Alex B Porter, – best selling author of lesbian erotic romance.
Edited and Foreword by Susan Harper, PhD – anthropologist, sociologist, sex educator, and professor of gender studies. View it here on Amazon.
You'll learn cunnilingus tips about how to:

Find and use pleasure points
Move from foreplay to oral sex
Overcome fears and insecurities
Make sex safe, hygienic and fun

You'll learn next-level sex tips on how to:

Change up your positions
Use fingers, vibrators and dildos
Incorporate roleplay or power play
Spark intimacy before, during and after oral sex

And you'll learn what not to do!

The Cunnilinguist includes the latest scientific research alongside firsthand advice from Alex B Porter, a woman with experience at both ends of the tongue.
.
Top tips from both ends of the tongue
I was very fortunate to be joined by Susan Harper on this book. Susan, who happens to actually be Susan B Harper (what a coincidence?!) came on board first as my editor and then also writing the Foreword. As a researcher, anthropologist, sociologist and educator in sexuality and gender studies, Susan really helped turn this book into something special, and educated me significantly along the way. I can't thank her enough.
Here's a tasty chunk of her kindly worded Foreword…
What this book has turned out to be is even more exciting that I had ever hoped. Working closely with Alex to craft a guidebook that could be used by anyone who wants to learn to give or receive good cunnilingus, regardless of gender, has been an adventure. I especially loved that this book focuses on the experience of oral sex for both the giver and the receiver.

So much writing out there about cunnilingus is focused on techniques for giving oral sex to cis women, and often assumes that the "giver" is cis and a man. These "guides" are often mechanistic and do not consider the role of the receiver, and they tend to be very heteronormative as a result. I love that with The Cunnilinguist, Alex has chosen to open up the discussion to anyone who wants to give oral sex to someone with a vulva, and anyone with a vulva who wants to receive. There's such a need for writing about sex that recognizes trans, nonbinary, and intersex people, and I think this book does an elegant (and fun) job of broadening the conversation beyond cisgender bodies.

The Cunnilinguist is the kind of book I wish I'd had available to my Sociology of Sexuality students. It manages to be both informative and well-researched while also being a fun, irreverent frolic. The description of the vaginal/vulvar/clitoral anatomy is worth the cover price alone, given how many people who possess these structures don't know what they're called or how they work.

This refreshingly modern guide takes the business of giving and receiving pleasure seriously, but never takes itself too seriously. It's full of orgasm-inducing tips and techniques for both giver and receiver, presented with equal doses of good humor and practical, usable information. I also appreciate her careful attention to the social issues—gender socialization, religious shame, and more—that can impact the ways we are willing to give and receive pleasure.

Susan Harper, Ph.D

Researcher, anthropologist, sociologist and educator in sexuality and gender studies.
Anatomy Diagrams for Cunnilingus
A lot of people have liked the anatomy diagrams so I'm sharing them here (and making them free for anyone to share with attribution). Enjoy and feel free to share! I've also taken some of the "Giver" advice and turned them into an online post "how to lick a clit". Check it out 🙂
Strawberry-Inspired Vulva Diagram
Why a strawberry? Well, why not?!
The Central Nervous System & Pudendal Nerve
Not terribly sexy I'm afraid but trust me, it gets better!

Clitoral Organ Diagram
See, we're getting there. You'll find lots of juicy information about the clitoral organ in the book!
Female Pudendal Nerve Diagram (Side View)
Anyone for a science lesson? Seriously though, this is pretty interesting stuff. Without giving too much away, the pudendal nerve is responsible for all that fun you're about to have!
Female Pudendal Nerve Diagram (between the legs!)
Yep, so important I had to show you it from another angle! All those nerves explain a few things, don't they? And that's not the half of it – there's a huge network of them; way too many to draw. Nerves nerves nerves!
Male Pudendal Nerve Diagram
Yes folks, we have a penis coming up. If you want to know why it's in a "how to" guide for cunnilingus (written by a lesbian) I'm afraid you'll have to read the book!
.
Female G-Spot Diagram
See – those pudendal nerve and clitoral organ diagrams above are starting to make sense now. Eh?
Common Clitoris Piercings Diagram
If you encounter one, it's most likely going to be one of these; the Vertical Clitoral Hood (VCH), Horizontal Clitoral Hood (HCH) or a Triangle. The VCH is most popular and "actual" clitoris piercings are pretty rare.
These diagrams are licensed under a Creative Commons Attribution-ShareAlike 4.0 International License. Feel free to use and share – just link back to this page! Prefer to get them elsewhere you can click here for diagrams on flickr.
You can also find them on Pinterest: https://www.pinterest.co.uk/alexbporter/thecunnilinguist-female-anatomy-diagrams/
How To Give Cunnilingus – And Receive It!
Want the low-down on the book contents? Woman, man, non-binary, transgender…there's something here for you…
The Cunnilinguist: Table of Contents
There's lots here – it's a biggie! Prepare to scroll – you have been warned!
FOREWORD
Research & the heterosexual orgasm gap

1. Lesbians have more orgasms than straight women
2. Vaginal sex can reduce a woman's chance of orgasm
3. Receiving oral sex can double a woman's chance of orgasm
And there's more…

The dinner party & birth of a book
How to use this book and what to expect

Watch yer language! A note on inclusivity
Pronouns used in this book
A short LGBTQ+ glossary
CHAPTER 1 (Muff): Diving In

Anatomy

First, let's clear something up: Vulva or vagina?
The pubic mound & labia majora
The labia minora (inner lips)
The clitoris & the hood
The secrets of the clitoral network & pudendal nerve
Got a penis?
Above the clit
Below the clit
The vagina
The G-spot: Myth or legend?
Below the vagina
Anatomy roundup

Hygiene

Fingers, nails, & rings
Piercings
Holy feck, it's vajazzled!
Facial hair
Oral sex at that time of the month

Safer sex

Dam it
Don't blow me
Genital damage, pelvic pain, & anorgasmia

Getting wet
Chapter 1 summary
CHAPTER 2: Going Deeper

The vicious circle
11 reasons why they might say no
Why letting go is important (for receivers)

And in saying that, I'll share some giver-honesty too…
11 receiver tips for letting go

Hey, givers get scared, too!

Empathy for the penis: Considerations for hetero and bi receivers

Letting go and building self-esteem together
Before we move on, a quick note about porn
Early-stage foreplay: Set yourself up for success

Starting early
Kissing
Talk dirty
Sexting
Undressing
Breast attention
Two hands are better than one
Safeplay

12 simple ways to get in the mood
Chapter 2 summary
CHAPTER 3: Down to Business

Venus, Mars, & consent

Why lesbians have better sex than straight women
How sexpectation differs between "lesbian" and hetero couples

Slow and beyond (the #1 tip for guys and other folks with penises)
An overview of techniques for giving great cunnilingus
Genital foreplay

Position yourself
The #1 rule
Removing the panties
Hair tips
More than words
The awakening: Here clitty, clitty!
Telltale signs

The #1 reason givers need foreplay
Clitoral action: Down to business

Pressure matters
The alphabet myth
A little pinch goes a long way
Shapes and movement
Slipping the tongue in
Take it on the chin—or nose
Teeth tips
How to suck
Polishing the pearl
Get your squeeze on
The clit sandwich
Enter the fingers
Making, breaking, and holding still
Encourage your partner to engage
Receivers: Remember to breath

OMG, they're coming!

Pre-orgasm vs orgasm
Ejaculation: Yes, it might just happen!
The kiss of sex: A hot ending… or a new beginning
Delivering multiple orgasms back to back
What to do after they orgasm
When your partner doesn't come
How to guarantee a happy ending
Don't make these five mistakes when you're down there

The ultimate guide to saving tongue & jaw

Three ways to give your tongue a break
Five tongue-break techniques that actually enhance pleasure
Ten tongue and jaw exercises to keep you going all night long

A few tips for the receiver
Hey, receivers! Here's a secret…

When they're getting it right
When they're getting it wrong
Every time with you is so different. It's not me, it's you!

Chapter 3 summary
CHAPTER 4: Take a Stance

Different shapes and sizes
Missionary & beyond

Raise that ass
Back and up
Knees on the bed, knees off the bed
Straddle and squeeze
Missionary considerations

Rodeo: Receiver on top
69
Doggy-style
Standing
Seated
On the kitchen table
Under the kitchen table
Chapter 4 summary
CHAPTER 6: Beyond Lip Service

About this section
A short guide to fingering

Testing the waters
Licky-licky finger penetration techniques
Going all in: Take it slow
Finger burst: A personal fave, but proceed with caution
Hold 'em back

Hitting the G-spot

Here's the easiest way to find it
Here's the best way to stimulate it
Skeptical receivers, listen up

Dick in pussy: A lesbian's insight to getting there
An example of how we roll
Care to vibrate?

Varied vibrators
Vibrator pros
Vibrator cons
First time vibe techniques
The Rabbit technique

To do or not dildo
Fisting 101

Getting it in
Fisting in five steps

Anal stimulation (fingers, tongue, and more toys)

It's an asshole!
Okay, I'm behind this!

The three-in-one
Roleplay
BDSM & power play

Verbal bondage
Physical bondage
Putting the receiver in charge

Pleasuring yourself
Mutual masturbation
Chapter 6 summary
Wrapping Up
Chapter 7: A Little Taster

I messed up
Cunni on the Cruise (a "Branding Her" excerpt)
That's all, folks!
Bibliography and References
Thank you… and a favor…
Social fun: #TheCunnilinguist
Other books
Say Hi!

Phew, that's a lot of bang for your buck!
The Cunnilinguist is the type of book that can be read from start to finish or dipped into for tips and ideas; solo or with a partner. So off you go, get down, get dirty and remember that sex can be sexy, orgasmic and fun!
View The Cunnilinguist on Amazon
Now for those of you who have read it or like to share…
#TheCunnilinguist – Social Images
I'd love it if you could share the love. Below are some great images for you…
So there you have it!

If you're a book lover you can also find me on Amazon and hit "follow" 🙂
The Cunnilinguist Audio Book Coming March 2019
Here's a sneak preview of the audiobook version due for release end of March 2019…
---
The Cunnilinguist Bibliography & References
Alongside speaking to some amazing people and injecting a great deal of personal experience into this book there was a lot of interesting research and reading involved. Massive thank you to the amazing contributors below and to the many others that brought much enlightenment and enjoyment whilst writing this book— some of which were upsetting, and some of which were absolutely hilarious; this piece brought tears to my eyes multiple times (yes, I read it several times!).